On Thursday April 5, 2018,  I had the pleasure of attending the W Hotel's Over the Top: A Modern World Fair. It was a celebration, unveiling the new W Chicago- City Center. A Living Room restyle of the space- it was an unveiling with flair and fun.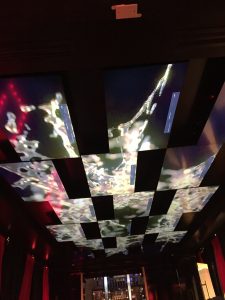 There was a long line when I arrived,  however it moved quickly. There were plenty of people checking in attendees. Not sure what to expect, one could see the lights and hear the music before walking into the space. After checking in, it was easy to forget one was inside of a hotel space. There was a huge bar at the center of the space. Lights in various colored brightened the area.
All around, there were different things set up as if you were at a fair. The decor and lighting fit the theme of the night. The bites and appetizers were off the new menu by Executive Chef Mark Powierski that has a vast array of food options inspired by Chicago neighborhoods at the W Chicago City Center's restaurant, The Midland Social Club.  There were also carts for vodka beverages aside from the main bar.  Near the entrance there was a cotton candy machine. The fun thing about that was that the paper holder had a blue light up gadget which made my blue raspberry treat an even brighter blue.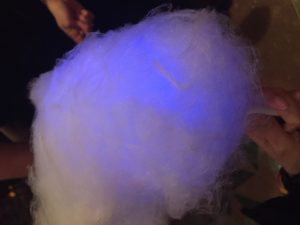 There was a variety of entertainment as you walked around the space along with food and drink. On one side there was a woman acrobat. Many attendees, including myself, seemed to be wondering at what point we could walk past her without being rude while she performed. On the other side, there was a talented electric violin player.  In another direction, there was a tarot card reader. There was a long line here for most of the event. Also on the floor was a handler with a 12 foot python! Some attendees were posing for photos with the snake.  I did not feel brave enough to try to hold a snake around my neck that night.
Upstairs, attendees also had the opportunity to pet and interact with furry creatures. There was a baby fox and chinchillas. Also looking pretty sleepy was an African Grey parrot.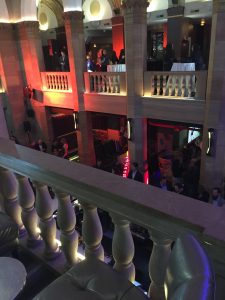 On second level only attendees with VIP wristbands were allowed. There were some extra perks to this. There was access to a ballroom area, there were more bites available as well as another bar.  This is where a fashion show took place featuring fashion from Christina Karin and custom jewelry by @redsolsandredwine. It was a short show but nothing lacking in glamour.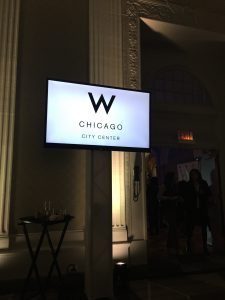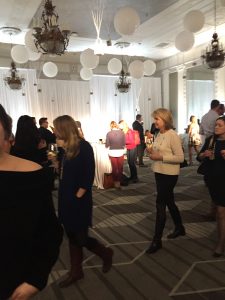 A chic and dramatic large space, Over The Top: A Modern World Fair did not disappoint. There was not a dull moment with so much to take in and see and do. I will be keeping an eye out for future events.
For more information on W Hotel, space, and upcoming events,  visit: wchicagocitycenter website
W Hotel is located at 172 West Adams Street, Chicago, IL, 60603