Festival season in Chicago is in full swing.  There are countless to attend each weekend, but none are set-up as well as Mamby on the Beach.  Mamby is one-part beach party, one-part music festival and 1,000 parts fun.  The goal of Mamby on the Beach is to reflect the unparalleled experience that is "Summertime Chi".  And boy does it deliver.
With multiple stages, a dance tent, beach access and a silent disco over two full days, there was so much happening it is hard to recap all that went down.  But here is our attempt of the best moments with photos to back it up:
YOGA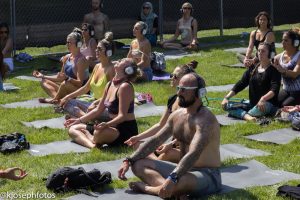 In case you skipped the gym on your way to the fest, Mamby on the Beach had you covered with a special outdoor yoga session.  There was also sound therapy, which was like getting a massage through the vibrations of drums and gongs.  So, there was no reason not to have your chakras in balance.
BEACH VIBES
Mamby on the Beach's great idea was to combine two of the greatest things in the world: today's hottest artists and Chicago's beaches, which rival the best beaches in the world.  The backdrop of Chicago's skyline and Lake Michigan's sparkling waters creates a beach vibe that is impossible to beat.
DANCE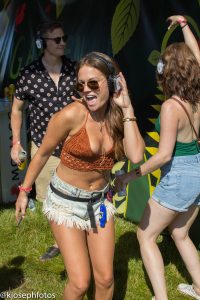 Along with the Silent Disco, the electronic dance music MixMag x Beatport Tent was where most of the action was. It was always crowded and the music (and thus the dancing) never stopped.  Two memorable perfomances were from Duke Dumont on Saturday and Richie Hawtin on Sunday.
BEST SETS
There were so many good shows, we can't declare just one as the best, so we'll just mention a handful of our favorites.  Nobody can sing like Jamila Woods and her set was as beautiful as her voice.  Speaking of Woods, Roy Wood$ had an action-packed show that was pure energy.  Gorgon City delighted the beach with a wonderful show full of good vibes and of course Common showed why he is one of hip-hop's top MCs.
DON'T FORGET THE ROCK
While dance and hip-hop music was front and center at Mamby, there were some great rock acts to perform.  Grizzly Bear, St. Lucia and headliners Cold War Kids all had the bravado, the strutting and the wailing guitars that rock fans are used to.  Mamby does a great job of bringing in a great mix of acts to keep everyone happy.
BEST SURPRISE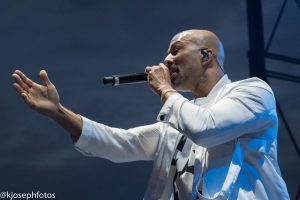 In the middle of Common's hot headliner set on Saturday night, Chance the Rapper came out unannounced to surprise the crowd. Together the two native Chicagoans performed Common's "The Food," (which was produced by another native Chicagoan Kanye West). Chance and Common both delivered fast-paced freestyles that made the crowd go wild.
The ideal way to celebrate summertime is getting to the beach.  Having a party there is even better.  Mamby on the Beach cannot be beat as the best beach party of the summer.
Photos provided by K. Joseph Fotos.  Full Gallery here.