Stunning Runway Fashion Show featuring the Rene Ruiz Collection
Over 400 guests attended the exciting Richard David Kann (RDK) Melanoma Foundation's 20th Annual Luncheon and Fashion Show "Eclipse 2019" on February 4 at The Breakers, Palm Beach. Marianne Gold and Nancy Hart served as Luncheon Chairs of this extremely successful event. National Honorary Chair was Merrill Fisher Gottesman; International Honorary Chair was Hermé de Wyman Miro; Honorary Chairs were Ari Rifkin, Arlette Gordon and Mary Bryant McCourt; Design and Auction Chairs were Ileene Fisher and Julie LaBruna; and Chairwoman Emeritus was Joan G. Rubin.
Covering this event for the past few years gives me pleasure but also gives me faith and hope that this wonderful organization will eventually reach everyone of us to educate us on this deadly form of skin cancer. The dedication and resources of the RDK Melanoma Foundation members and sponsors is overwhelming. Each year, I learn more about prevention thanks to this wonderful foundation.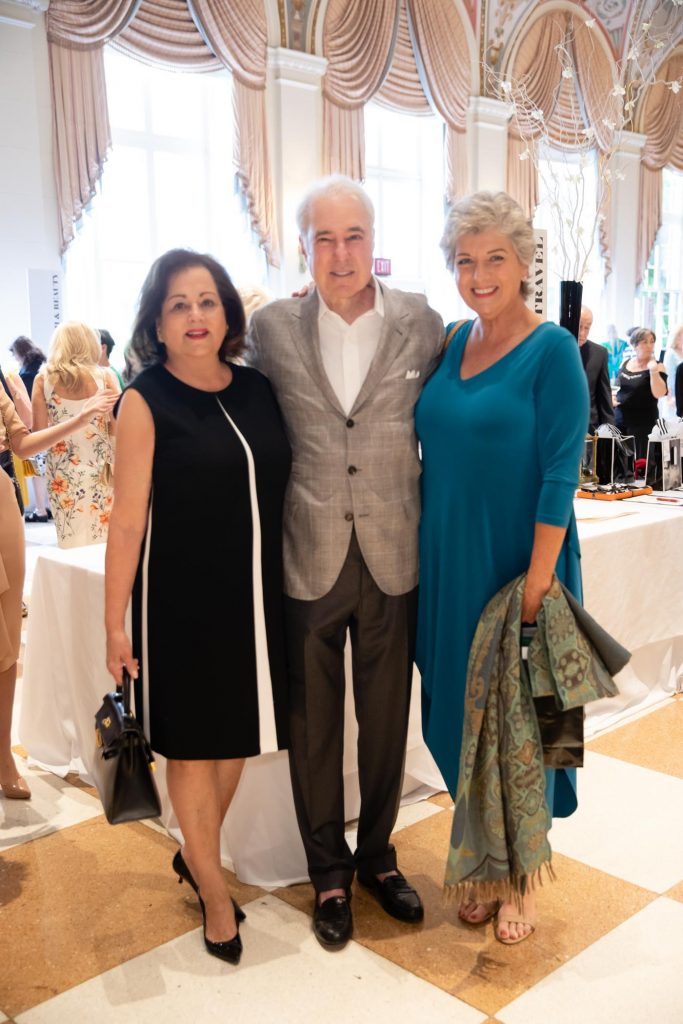 This highly anticipated fashion event featured a world-class silent auction, a gourmet luncheon and stunning runway fashion show featuring the Rene Ruiz Collection, designed by Luis Escudero – Creative Director of the brand, and jewelry by Patricia Robalino Designs.
RDK Melanoma Foundation's 20th Annual Luncheon and Fashion Show is one of the most popular luncheons of the season and raised funds for the Foundation's mission to save lives through education about the prevention and early detection of skin cancer, especially melanoma, its deadliest form.
Education, Prevention and Saving Lives was the theme that was shared to all of those in attendance. Guests were educated during the program about the important work the Foundation is doing not only locally, but nationally; including building sun smart cities and venues to educate and prevent melanoma.
Sun smart cities and venues nationally are the expanded activities of the Foundation – emanating from the school-based education and the Students Against Melanoma (SAM) clubs that have been the historical building blocks for prevention and early detection work of the RDK organization.
Honored during the event were Luncheon Chairs, Nancy Hart and Marianne Gold– who continue to be steadfast supporters of the Foundation and its mission and who were both instrumental in the overwhelming success of this luncheon. These two special women received the Rainbow Award. Ileene Fisher, Design Chair, was named Volunteer of the Year. In another special presentation, the 2019 Layne Nisenbaum Scholarship Award was presented to Dr. Benedict Wu. The scholarship fund was started by former congressman Mark Foley and the Nisenbaum family in memory of Dr. Layne Nisenbaum and his dedication to RDK Melanoma Foundation and skin cancer awareness. As a leading Dermatologist in Palm Beach County, Layne was passionate about helping people and this scholarship is a way to continue helping doctors who will carry on his legacy.
Luncheon sponsors included: Antonacci Family Foundation; Molly and Richard Apple; Deborah Caplan; The Rhoda and David Chase Family Foundation, Inc.; Stephanie and Richard Chestnov; Comiter, Singer, Baseman & Braun LLP; Custom Shootout; Joyce and Charles Ezrine; Fisher Potter Hodas, PLLC; Sandy and Fred Fine; The Samuel J. and Connie M. Frankino Charitable Foundation; Marianne and Harvey Gold; Arlette Gordon; Merrill and Charles Gottesman; Nancy and Joel Hart; JM Family Enterprises Inc.
Additional sponsors include: Dr. Lawrence Katzen; Jan and Dr. John Kinney; The Leder Foundation; Lighthouse Partners/Erin and Sean McGould; Mary Bryant McCourt; Ellin Dixon Miller; Herme' de Wyman Miro; Catherine and Sal Paone; Penn Medicine's Abramson Cancer Center; Stephanie and John Pew; Monika and John Preston; Marni and Morris Propp; Sheryl and Jack Purcell; Tina and the Honorable Samuel Raia; Kate and Hal Reed; Ari Rifkin; Joan Rubin; Searcy, Denney, Scarola, Barnhart & Shipley, P.A; Donna and Mike Schmidt; Barbara and Peter Sidel; Deborah and Steve Schwarzberg; Drs. Abe and Talya Schwarzberg; Estelle Sugarman; Sun Capital Partners Foundation; and Claudia and Lee Trevino.
About Richard David Kann Melanoma (RDK) Foundation:
The Foundation has been working locally and nationally for 25 years to save lives by changing behaviors through education to increase awareness on sun safety prevention and early detection of melanoma. Their newest initiative involves the distribution of sunscreen dispensers in parks, beaches, schools, and outdoor areas, where sun exposure is excessive.
The unique Students Against Melanoma (SAM) Clubs in middle and high school, and the SunSmart America™ curricula, programs, and resources, have educated hundreds of thousands of students, families and communities on sun safety behaviors and practices for prevention and early detection of skin cancer.
Today RDK and Hall of Fame baseball player, Mike Schmidt have launched The Mike Schmidt Sun Smart USA program. This grassroots program, launched in Philadelphia in 2017, strives to make a positive impact by protecting the public at beaches, parks and stadiums nationwide with the placement of sunscreen dispensers to inspire people to implement life-long habits for prevention of skin cancer.
Mr. Schmidt was the keynote speaker at last years' event and I was so impressed by his dedication in helping prevent all types of skin cancer. I had the opportunity to speak a bit with him this year and besides being the greatest third baseman of all time, he's a sweetheart of a guy. Mike Schmidt is a survivor of Stage 3 Melanoma. He fought through multiple surgeries chemotherapy and radiation to save his life. This Hall of Famer now dedicates his life to making sure his message of prevention and education reaches us all.
Deborah Kann Schwarzberg is Founder and President of the RDK Melanoma Foundation. To learn more visit melanomafoundation.com or call 561-655-9655.