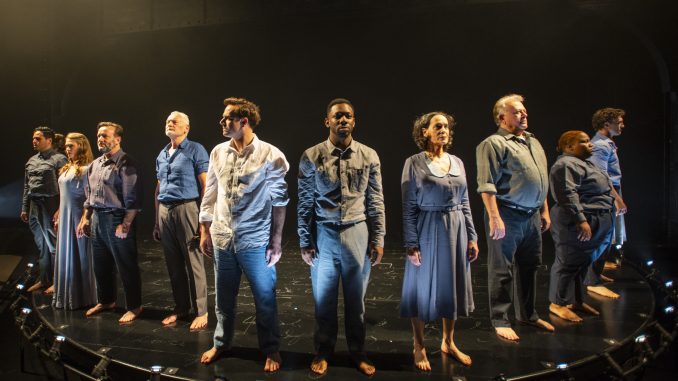 It's a challenge to summarize Saul Bellow's epic, picaresque 1953 novel The Adventures of Augie March. With dozens of memorable characters and scenes that unfurl herky-jerky over decades and scattered locations, the book is held together by the glue of Bellow's language rather than the stitched-in binding of plot.
It's an even greater challenge to transform Bellow's meandering work into theater. In 2015, Court Theatre, at the University of Chicago, took up that challenge by commissioning Pulitzer Prize– and Tony Award­–winning playwright and university alum David Auburn (Proof) to adapt Augie March for the stage.
Auburn collaborated with Court Theatre artistic director Charles Newell, who directs this world premiere, and took advantage of the university's Special Collections Research Center, the repository of Bellow's papers — Bellow attended the university and served on the faculty. The result is a theatrical triumph that celebrates the freewheeling spirit of the book.
The team's stage magic charms from the get-go. The stage itself (set and lighting design by John Culbert) is a Chicago novel in black and white. The black proscenium arch mimics the riveted brawn of the "L" and plants the origins of the story in Chicago. The novel's opening lines — "I am an American, Chicago born — Chicago, that somber city — and go at things as I have taught myself freestyle…." — repeat throughout the play. The black floor of the stage is covered in white script — Bellow's own handwriting, straight from the archive. A sheer white scrim slides back and forth, as if turning the pages of a book.
Bellow's words are further animated through movement and dance in an inspired collaboration with former dancers from Tanztheater Wuppertal Pina Bausch, an innovation European dance troupe best known for the late Bausch's Café Müller, in which the dancers tango with black chairs — choreography echoed when Augie March's ensemble of actors enters. Later in the play, as they swoop and slither across the stage, the actors dance their way through Bellow's pages.
Bellow's words come to life with striking effect with puppets and shadow projections by Chicago's Manual Cinema Studios. Central to the book is a scene where Augie and his lover Thea travel to the mountains of Mexico to train an eagle named Caligula to capture giant iguanas to sell to collectors. It's Thea's wacky idea, but Augie, who is cautious about judging others, goes along with it. The performers and the puppetry embrace the zaniness inherent in much of Bellow's writing, and a scene that might have seemed unplayable soars.
Much of the production's success stems from Newell's nuanced direction of an outstanding cast. Patrick Mulvey plays Augie with the mix of curiosity and vulnerability that informs Bellow's character. Augie is an everyman, discovering who he is and figuring out ways to interact with family and acquaintances — an oddball crew portrayed by 11 ensemble members fleshing out multiple roles. Chaon Cross plays not only Augie's fuzzy-thinking, visually impaired mother raising children in poverty without their father, but also, in a Freudian twist, Augie's lover Thea.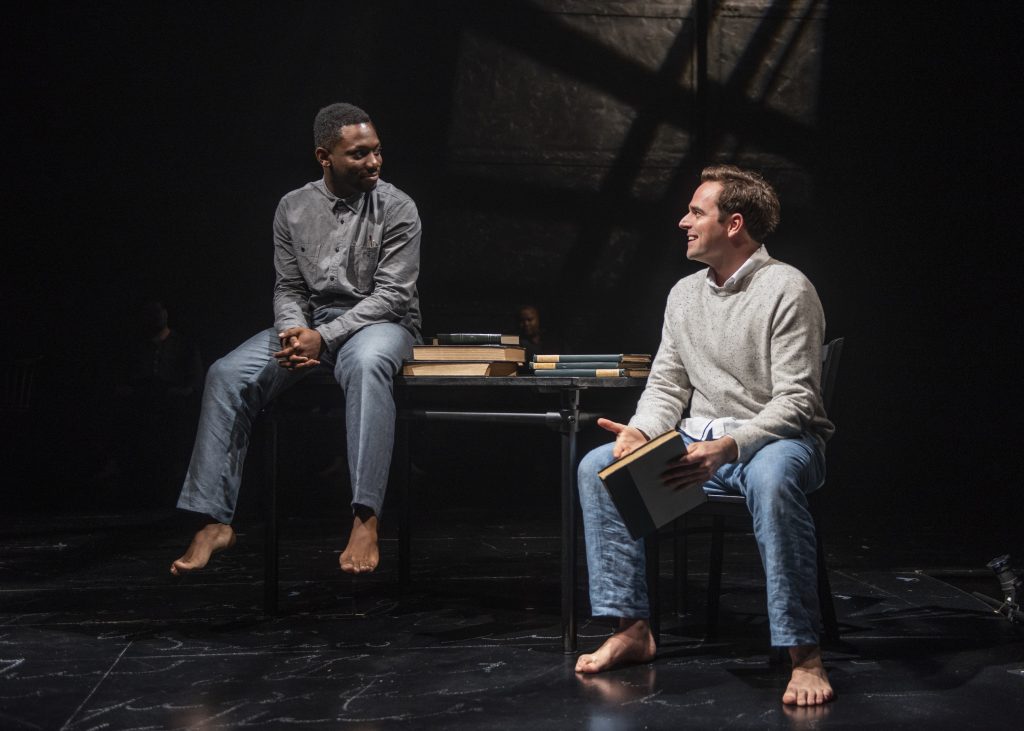 Travis Turner is effective in the role of Augie's developmentally disabled brother Georgie, who is mostly mute until he takes on another persona, speaking eloquently — a device Auburn employed in an attempt to channel Bellow's words and Augie's thoughts. The effect is akin to a Greek chorus, commenting on the action. With the help of dialect coach Eva Breneman, who studied Studs Terkel's recordings of mid-century Chicagoans, Marilyn Dodds Frank transforms herself into the bossy Grandma Lausch, later shimmying across the stage in a Mexican fiesta.
Aurora Real de Asua inhabits the role of the gutsy Mimi, and Brittneylove Smith puts a genial spin on the role of Dingbat, half-brother and thug assistant to swindler Einhorn (John Judd), who runs his rackets from a wheelchair. Abby Pierce is understated as two of Augie's loves, and Luigi Sottile struts his stuff as Augie's scheming brother Simon. Capably rounding out the ensemble are Sebastian Arboleda, Kai Ealy, Neil Friedman and Stef Tovar.
The production begins and ends with Augie in a lifeboat, examining his life (thus giving new meaning to "lifeboat"), asking the big questions about who he is and why he matters. His generous character makes us root for his success.
The Adventures of Augie March
Through June 9, 2019
Court Theatre, 5535 S. Ellis Ave., Chicago (free parking in adjacent garage)
Running time: 3 hours, 5 minutes, including 2 intermissions
Tickets $50–$74 at (773) 753-4472 or Court Theatre
Photos: Michael Brosilow