By Kathy Carpenter
Who doesn't love a little bit of Kooky, especially this time of year? Lawrence Welk Resort offers you the chance to indulge in some pre-Halloween fun as they presents"The Addams Family," directed by Larry Raben, now through November 10th, 2019. Funny, family fun, with the quirky characters we all know and love. IF you think you've see the movie, no. This is a fresh new musical comedy for the stage you will love. I know this characters now have a special place in my heart.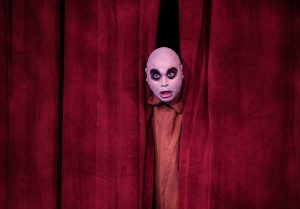 Every fathers' nightmare, Being coerced into a promise to his onlyhdaughter and having to keep the secret from his wife. A rock and a hard place. Wednesday Addams is all grown up and in love. She invites her prospective inlaws the Beineke's to dinner, afterwards she plans to announce her engagement if all goes well. That's the question isn't it. Can the Addams do one normal night?  Of course, her fiancee Lucas is asking his family the same thing, to be normal. They are from Ohio.
The cast is amazing. Kevin Hafso-Koppman, as Gomez. If you haven't seen him act you are in for a treat Erica Marie Weisz, as his leading lady and wife Morticia. Long dark hair and a dress cut down to Venezuela. Chelsea Emma Franko, takes on the role Wednesday. Lucas, her boyfriend,is played by Drew Bradford, and is one of the better actors I've seen in this role. Next, we have Fester, I love Fester, he is the narrator of sorts for the story and simple lovable, played by Andrew Metzger.
This is a big cast and yes I need to mention all the players as they are all dynamite. Especially Pugsley, played by Blake Ryan, who tries to blow up Wednesday entire plan rather than lose her tortuousness ways of sisterly love.  Then we have grandma, a real hoot, played by Kat Fitzpatrick. Mr. and Mrs. Beineke , played by Steve Gunderson and Nancy Snow Carr. Unique characters of their own that add to the funness of the story. And then we have Berto Fernandez as Lurch. With a surprise of his own. Add eight spiritual Ancestors to the mix, you get spot on fun.
Including the overture we have 25 five incredible songs. I love the score of this show, everything fits so perfectly. A crazy plot all tied up in a web. Costumes are Addams family specific, and the stage set in the Addams stone mansion.
Let The Addams Family be your Halloween thing this year. It's not all about parties and treat or treat. No tricks here you will love this show.
On Wednesday evenings through October 30, 2019, Welk is presenting The Alley Cats, a 1950's bend of Comedy and Music.
Next play comes January 20 – March 22, 2020. A Chorus Line.
Welk Resort Theatrer
8860 Lawrence Welk Drive, Escondido Ca
1.888.802.show