2023 is upon us and that means the annual New Year's Resolution. Trying to drop some pounds and getting fit and ready for more time at the beach, the pool and simply spending time outdoors. If you are looking to tone up or drop a few pounds and reach those goals you set for yourself in 2023, Splash Magazines Worldwide has put together a list of products that can kick start the process.
The biggest part of any heathy lifestyle is what you consume on a daily basis. Huel (Human + Fuel) has made the task of eating well incredibly simple with their nutritionally complete food. Huel has a number of products to help you get through the day including different versions of their complete meal in powdered form including their Huel Black Edition, which contains 50% less carbs, 33% more protein, zero artificial sweeteners and is naturally gluten-free. In addition they contain all 27 essential vitamins and minerals, essential fats, fiber and phytonutrients while coming in such tasty flavors as cinnamon roll, coffee caramel and strawberry shortcake just to name a few.
Huel took on the task of creating an equally healthy meal that can provide you lunch or dinner in minutes with their Hot & Savory lineup. Huel Hot & Savory are plant-based instant meals that give your body all the nutrition that you need in a complete meal including 27 essential vitamins, protein, carbs, fats and fiber. Huel has a long list of flavors to choose from, such as: Mexican chili, mac & cheeze, yellow coconut curry and pasta bolognese, they truly have flavors for everyone. The flavors are great, but the best part is that you simply add two scoops along with some water, heat it in a microwave and you have a perfect meal with very little effort. Regardless of they type of diet you choose to follow or your lifestyle, Huel is a nutritious and tasty addition to your day whether it is one meal or to enjoy throughout the day. For more information, visit: Huel
If you are looking to get an optimal workout that is measurable, the AMP™ Jump Rope Set will give you a personalized jump rope workout in your own home.
Crossrope AMP™
Connect: Bluetooth technology pairs AMP™ with the Crossrope app in under ½ a second. AMP's Bluetooth handles automatically count every jump with high-precision technology, sending real-time stats to the app. A single charge gets you 3-6 months of jumping.
Jump: Choose from 2,000+ personalized workouts in the Crossrope app and track your performance with real-time jump counts, jumps per minute (JPM), jump streaks and more. These metrics help AMP™ learn your skill level and build personalized jump targets to guide you through every workout.
Level Up: Challenge yourself to hit new jumping milestones, set new streaks and PR's. Earn new badges every time you hit your goals. For more information, visit: Crossrope AMP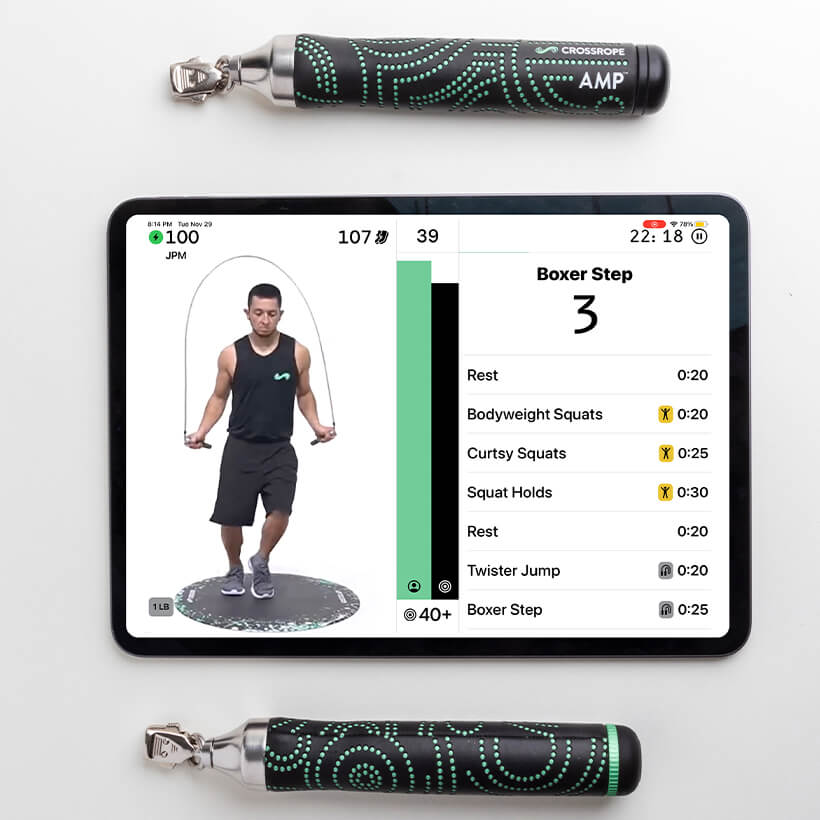 BEAM has put together a high quality line of that are formulation by sourcing and importing the raw ingredients and the creating incredible taste with their in-house flavor team and then making sure of the manufacturing and production of the final product. You can taste immediately the care that BEAM puts into making sure the taste is incredible and you will enjoy any of their products.
BEAM uses natural sources of protein and prebiotic fibers and their products are naturally flavored and have no artificial sweeteners, colors, or dyes. They include: pea, pumpkin seed, and mung bean protein to give you the ultimate amino acid profile for efficient muscle building and recovery, and total 20g of protein. BEAM also has a pre-workout, super greens and recovery aminos to go with your daily fitness regime. For more information, visit: Beam